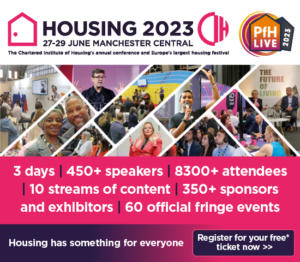 Interview by Andrew Morrison, Founder & BD Director, AM Bid and Ultimate Tender Coach, with Sarah Payling, Group Event Director, Ocean Media Group
We're talking about the upcoming Housing 2023 event at Manchester, Europe's largest housing festival running Tuesday 27th through to Thursday 29th June.
What are the facts and figures around the expected numbers of conference talks, events, delegates, exhibitors and sponsors?
For anyone that's been to Housing, they'll understand the size and scale of the event, it's huge. The sector does a lot of different things, and we recognise that. We will have over 8,000 people attending; most come for the three days. We have a Jobs Fair this year on the Thursday which we're really excited about, working with Greater Manchester. There are up to 500 speakers, I think at last count we're on 444 right now along with 350 exhibitors and sponsors. We have maybe three stands still available on the show floor as we created extra space due to demand. We start with the awards ceremony on the Monday and the walking study tour of Brunswick.
As someone who has been coming to the event for 20+ years, going back to the old days of Harrogate when I worked in social housing, I can pay testimony to what a great event it is, whether you're a delegate, exhibitor, speaker, sponsor or housing client. Social housing has been in the news over the last year with issues like damp and mould, housing quality and the cost-of-living crisis disproportionately affecting people in social housing. There is a move by government around professionalisation of the sector and there's been commentary from tenants' groups about the lack of professional qualifications required to manage properties. How will the conference agenda be structured to discuss these and some of the other big issues within housing?
The conference agenda every year focuses on us as the landlord and more importantly the tenants and residents we serve, even more so this year. We've changed some structural things. Since 2012, we've always started with the welcome address, followed by the big politics session, where political commentators talk about what's going on in the world at the moment, but it's no longer number one on the programme. First on the programme is how we look at true tenant and resident engagement and how we listen first. We have launched a brand-new stage – the tenant/resident engagement stage. We've done two exceedingly successful tenant and resident engagement conferences with many tenants attending and have taken on board a lot of their feedback. As Richard Blakeway, the Housing Ombudsman, said, it's going to be a hard programme to write this year because we need to celebrate some of the great work being done but also recognise where things have gone wrong. We are always learning and I'm hoping we've addressed some of the failures while also sharing best practice.
That sounds so good, both sides being looked at. Yes, there are issues and there have been some fairly significant failures, but there's also a lot of successful things going on – initiatives, projects, good practice, residents having more say in the running of properties and their communities. Also, from a bidding and tendering perspective the increase that we're seeing around the importance of things like social value and the connection with communities. Who are the big-name speakers this year and what parts of the event are you most looking forward to?
We have Rachel Maclean, Minister of State for Housing and Planning at the Department for Levelling Up, Housing and Communities, and Lisa Nandy, her Shadow counterpart, who is using the event as an opportunity to discuss and go into detail on some of Labour's housing manifesto pledges for the autumn. We've got some great political commentators and big economists. We're doing a lot around Placemaking. Gordon Seabright, former chief executive of the Eden Project and now CEO of the Creative Land Trust, is talking about art culture, what places need to feel like away from the boundaries of the four walls of your home and what that looks like in different areas. For anybody coming to the venue, they'll see that our last day is the opening day for the Manchester International Festival, so the city will be alive and awash with some really exciting names. We are the warm-up act for the festival. Lord Victor Adebowale is speaking about culture and there are some great people on the unlock net zero live stage. The problem you have at our event is that there is so much great content – with 10 theatres and 10 streams running you're always going to miss something. I spoke to one of our speakers who has never been to Housing, and she was so excited, marking the sessions she would attend. It took me back to my first Housing in 2008 – in Harrogate – and I've loved the event ever since.
Well, she's going to find her tribe, isn't she? I'm quite sure that she will be coming back and that idea of looking at the programme, picking out what is of interest is important; you want to attend with a plan.
Yes, the app is helpful with that, along with the pdf of the programme. We're trying to look at how we produce the event. We've reused our stage sets due to sustainability and have done more than pretty much any other event organiser in the UK in terms of net zero. We don't do the big print event guide anymore but are producing something that people can read on their mobile.
There are a large number of Fringe events. What is the Fringe and what's new for 2023?
We used to say we have 60 official Fringe events. Those who work in the supply chain consider themselves housing people too, they resonate with the sector and do a lot of networking events after hours to really bring together people over small dinners and networking receptions. We've got the big opening dinner, Women in Housing and Housing Heroes Awards with Huw Edwards as host. We have the Unlock Net Zero Live Awards with Kunle Barker on the Tuesday night, reusing the stage set from Women in Housing in true sustainability style. On the Wednesday night, we have a ticketed event of 900 housing people at Impossible Bar for a huge charity fundraiser supporting More Than Homes Trussell Trust campaign with rock-a-oke. There is a walking study tour to the Brunswick regeneration project on Monday at 2pm. On Wednesday morning, from 8-9.30am there is a charity walk to Castlefield Viaduct, so loads to do and see.
It is a very large event and could seem a little overwhelming for a first-time visitor. What would you say to someone who is thinking of attending for the first time?
If you just turn up and don't plan your day, you won't get the best from it. The exhibition floor is a great place to walk around and talk to suppliers. There are great cafes within the venue and a lovely space outside. Go to the sessions and the theatres, listen and talk, the housing sector is so friendly and welcoming. Go find your people, your network and your new friends at our event.
What are the benefits of the event for Exhibitors and Sponsors? Are you finding the cost-of-living crisis is affecting business event budgets at present?
We have events that are now very established in people's diaries and mindsets. This year, I'm delighted to say that Housing is looking bigger and better than it is has ever done since we've been at Manchester. People are thinking about what matters when they exhibit and sponsor – less giveaways or handouts perhaps due to the cost of living or being environmentally conscious. People have realised that the real benefit of exhibiting or sponsoring is speaking to their audience, and they don't need to do that through expensive throwaway gimmicks. We have a very loyal, engaged supply chain that have always exhibited at Housing. To put that into perspective, when we left in June 2022, 70% of the floor was already booked for this year.
Yes, on behalf of my own business AM Bid and Ultimate Tender Coach, we are right at the entrance as people come in and I'm speaking along with Chantelle Seaborn at the seminar on Wednesday morning – "How to Achieve an 80%+ Bid/Tender Win Rate When Bidding within the Housing Sector". Things begin at Manchester Central on Monday 26th June with the Housing Heroes and Women in Housing Awards dinners. What are you looking forward to for this event and are tickets still available?
I think Huw Edwards will be brilliant as a host, we're very excited. Housing Heroes are my favourite awards, celebrating all levels of success, from all levels within the organisation. There's a party after and it's a real scene setter, a celebration. We launched Housing Heroes in 2010, all about people who go above and beyond, and I meet those people every day. You are not always sure what their job role is because they look to do everything, working additional hours for their tenants and residents to make their lives better and they don't even think of themselves as heroic in their efforts. Also, the Women in Housing Awards are great. Hopefully we won't need to do those awards much longer because there won't be any need to champion women but absolutely phenomenal awards to kick off a great Housing week.
With Huw Edwards attending, he might be able to take some of the good news stories back and we might see a few appearing on the BBC in the future. Now last year, a big surprise as Ocean Media and CIH announced that Housing 2023 would be their final joint event. What are the 2024 plans for the event and could competition from other events in the sector, perhaps even from the CIH itself, affect the size and reach of this event?
Ocean Media Group and the CIH have a relationship for Inside Housing magazine and for the Housing event. Ocean now has ten very big conferences in our own right. We have a social housing portfolio for Social Housing magazine and social housing data product. We've changed since the arrangement began as have CIH, as one would expect and hope. I was very sad; I love working with CIH. Gavin Smart, their CEO, is a great person to work with and his policy team of James and Rachel are phenomenal. Housing has always been a broad church, this year we will do policy work with the Department for Levelling Up, Housing and Communities, and the Department for Energy Security and Net Zero. Homes England are taking a large stand in the foyer with huge work around being able to discuss their new strategic plan with our audience. We've always welcomed everybody and that's always been the strength of Housing.
It sounds like the event still has a really good future and will grow in different directions and continue to be a fixture for people involved in housing in all the different guises. AM Bid and Ultimate Tender Coach also exhibit at the Homes event in London ExCel in November; how are plans for this event shaping up and will there be anything new happening there this year?
Homes 2022 was the biggest event we've ever done and 2023 is looking to eclipse that. Homes was always seen as a bit of a younger sibling to Housing and having its own raison d'etre with Unlock Net Zero Live really gave it a new sense of purpose last year. Our colleagues at Inside Housing do a lot of work looking at risk to the sector and one of the biggest things to come out is around recruitment and retention, not helped by some of the news stories. We have worked with the North West and Greater London areas on doing some jobs fairs to attract people into our sector, to show them the whole scope of what we do looking at local employment, new apprenticeships, getting tenants and residents into new roles. So, it feels right in terms of social value as well.
That's exciting about getting young people involved. I stumbled into working in housing 30 years ago whereas perhaps now, people will be choosing it as a destination, an intentional career path. With so many events available virtually, people working remotely, how do you see the future of in-person events over the next few years?
There's nothing like an in-person event. My team are already really excited about getting on site at Housing. It's hard work, from 7am until midnight each day but we absolutely love it. We love our customers. We love our delegates. We love our visitors. We love the sense of being there again. We do monthly webinars still, which are getting 500 pre-registered every month. I think there's a place for both. Anything that's more than two hours looking at a screen is not fun as we found out during COVID-19, but smaller bite-sized sessions online where you don't have to travel are so useful. I don't think we'll ever do an Advisory Board in person again, dragging people from Glasgow to London, it seems insane! Smiling, chatting, wonderful conversations, the laughter just happens so much more naturally when you're on site together.
Absolutely, look forward to catching up with you as always. Whether it rains or the sun shines, it's going to be shining inside the venue because there will be that buzz of a truly great event for a sector coming together in all its different guises. Thank you very much, Sarah, for a brilliant interview and a real scene setter for Housing 2023.
To find out more about Housing 2023 please visit: