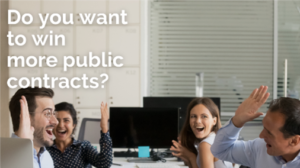 Is your business a Small or Medium-sized Enterprise (SME)? Do you want to win more public contracts? Then why not watch our latest Webinar focused on how you can make quick changes to improve your bids and win more public contracts.
This year the UK public sector will tender out £290 billion+ buying goods and services. Their aim is to increase the SME share of this spend to more than £96 billion by the end of 2022.
These public sector contracts can be transformational for SMEs – they provide sustainable revenue streams, fast payment, and guaranteed work. With over 12,000 public contracts advertised per month, this is the ideal time to upskill and win more business, but it is not easy to do.
Our latest Webinar focuses on practicable quick wins, hints, and tips you can action today to enhance your bid output and improve your probability of winning your share of these lucrative contract opportunities.
We also introduce our online public sector bid training programme, Ultimate Tender Coach, which provides SMEs with more detailed knowledge and insight in to developing winning public sector bids.
So, if you are missing out on public contracts, not sure how to get started, or new to public sector bidding, watch the webinar to find out how you can win more!
The session covers:
The importance of a bid strategy – Client Hot Buttons, Win Themes and USPs
How to plan for success – content, structure, requirements
Tailoring your message – turning generic information into unique responses
Communicating your value – the benefits and value of your unique solution
Evidencing your claims – building credibility and trust
Where to find help – online training specifically designed for SMEs
Bid and Tender surgery – audience Q&A
We look forward to helping you enhance your bid output and win more public sector contracts!
Watch here. Passcode: c&5@mb0u