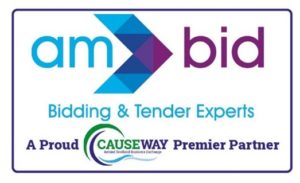 AM Bid, one of the UK's leading bidding and tender specialists, is pleased to announce a new partnership with Causeway: Ireland Scotland Business Exchange as the membership organisation's newest Premier Partners.
David Gray, Managing Director, AM Bid has been actively involved with the Causeway network for a number of years. Commenting on becoming a Causeway Premier Partner, David said:
"I'm delighted that AM Bid is Causeway's newest Premier Partner and look forward to working more closely with the Causeway team. As a bidding and tender specialist with a large number of clients in both Scotland and Ireland, this partnership is a great fit for us.
"AM Bid and Causeway share a common passion to support business growth and collaboration, and I'm really excited about how we can work in partnership to help businesses across Scotland and Ireland do this."
Co-Chair of Causeway, Judith O'Leary added:
"Causeway is delighted to welcome AM Bid as Premier Partner. We share the same goal which is to drive business growth through robust partnerships with like-minded organisations."
Supported by the Irish and Scottish governments, Causeway: Ireland Scotland Business Exchange is a not-for-profit business membership network. Their core remit is to facilitate opportunities for businesses from across Ireland, Northern Ireland and Scotland to build professional connections, and explore business growth and collaboration opportunities across both sides of the Irish Sea.
AM Bid is Scotland's largest bidding and tender specialist, with a diverse range of clients based across the UK and Ireland. Working in over 25 sectors, they help businesses of all sizes bid for – and win – contracts valued between £50k – £500m (c.€60k – €600m) and are specialists in public tenders across Scotland, UK and Ireland.
For more details contact Christine Hornshaw, Client Relationship Manager, AM Bid on 07962 531 627 or christine.hornshaw@ambid.co.uk