Civil engineering is extremely important within any large-scale project. Surveyors play an integral role in land development – generally being the first people to scout and measure the land. Afterwards, civil engineers and architects use these measurements to understand the area. This helps them design the structures correctly and safely.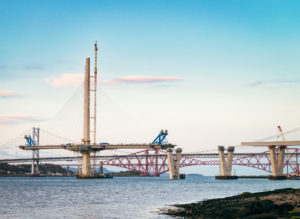 Alongside them would be commercial colleagues who ensure that construction projects are reported accurately and effectively. They often manage the contractual relationship between the various parties involved in projects.
We caught up recently with Stephen Slessor, President of CICES (The Chartered Institute of Civil Engineering Surveyors) and discussed how the sector is responding to the current external pressures.
The effects of COVID-19 on the Civil Engineering sector
The COVID-19 pandemic has undoubtedly brought unprecedented challenges to the entire world. Despite this, it has actually led to a few positive changes within the Civil Engineering sector.
For a sector that is accustomed to some conflict, the pandemic has forged some unity within Civil Engineering. There has been a lot of support for one another, with the Construction Industry Council introducing new safe working practices. These new practices have helped Small-Medium Enterprises (SMEs) return to work in a safe manner.
However, there are still many challenges faced within the sector. Civil engineering projects have always been collaborative pieces of work. This has proved challenging as people have at times been unable together to scout out land and conduct usual business activities. This has impacted on their ability to collaborate and brainstorm effective solutions and ideas, whilst also negatively affecting their mental health.
Furthermore, the pandemic has made it more difficult to resolve any issues within supply chains. Unless businesses have local SME supply chains, this has become another significant challenge for businesses within the sector.
The permanent changes brought by COVID-19 in Civil Engineering
The disruption of usual business activities caused by the pandemic, has forced businesses to adapt and change their way of working. Platforms such as Zoom and Microsoft Teams have become the next best option considering the circumstances.
Whilst these methods cannot be a direct substitute to in-person meetings, businesses have realised that these are viable methods of working during difficult situations. This has presented businesses with a more flexible way of working; helping make the sector become more diversified, friendly and agile.
Furthermore, the lockdowns prompted the introduction of new safe working practices. Alongside these, there are now better communication tools going forward. Virtual sight safety tours are now available within the Civil Engineering sector. These tools allow experts to view a project and site from far away – without the need to travel for hours. This brings environmental benefits, as well as cost saving benefits.
It is important that these can be embedded into future delivery models. With the right blend of learning and developing, businesses within this sector can be at a much stronger place.
Brexit within the Civil Engineering sector
It is difficult to become fully prepared for an event like Brexit. However, the Civil Engineering sector prepared as much as it could. Businesses have already done a lot of work concerning their supply chains and materials – this is hopefully delivering a smoother Brexit for the sector.
Despite this, Brexit is still having significant impacts within the sector. European investment banks have funded a large proportion of past infrastructure projects within the UK – this funding will cease to exist which will likely pose some big challenges ahead. Furthermore, the absence of clear trade deals will bring some uncertainty to availability and cost of goods. This can potentially have adverse effects on contracts – increasing risk especially for supply chains using Just-In-Time deliveries.
However, there could also be some new opportunities. Brexit could potentially lead to a better relationship with some wider global supply chains. This could open up prospects to improve standards in the wider global supply of materials.
Overall, it is difficult to predict the full long-term impacts of Brexit as everything is interlinked and we all live in a global society.
Bidding within the Civil Engineering sector
The UK Government's Construction Playbook has been released, outlining many changes to the way large projects are planned/ procured and project-planned. The government has come together to encourage change in the UK construction industry to deliver sustained, value-for-money in a more stable and productive industry. In essence, the government now wants the sector to become more profitable.
This is very meaningful for the sector as there have been numerous businesses failing and jobs being lost – simply because firms have been pushed to accept higher risks which they could not afford to take. Too often, clients have encouraged businesses in the sector to participate in a 'race to the bottom' in pricing' – a race where there are simply too many casualties.
The new Construction Playbook is attempting to discourage such races to the bottom. The Playbook now gives guidance around abnormally low tenders – public sector organisations will now be required to go to the Cabinet Office if they want to appoint contractors with bids below 10% the average tender. The sector can only hope this will translate into less 'races to the bottom'.
Another key aspect mentioned in the Playbook is Early Supplier Involvement (ESI). Clients often fail to realise the benefits of early contract involvement – especially in design and feasibility schemes. There can be so much value that can be offered and added, however, this is often not recognised by the clients. ESI will hopefully become more popular with the introduction of the new Construction Playbook.
Social Value is also increasing in importance as the Construction Playbook states that the social value aspects of bids should now form 10% of the evaluation score. As the Playbook is mandatory for much of the public sector tendering, buyers will have to comply to these, or at least explain the reasons why they are not using these provisions.
Changes within Civil Engineering in the next decade
There will be many changes within this sector in future years. As technology and innovation continues to grow, it will be vital for the sector to embrace the adoption of more digital tools. Digital transformation will likely be a big concept going into the future.
The current trend is also leading the sector into a growing focus on data capture and management. An increasing number of clients will be wanting better quality information to encourage better quality decisions to improve their businesses. Thus, it will be important for businesses to begin employing data analysts to support these client requirements.
One of the biggest challenges within the next decade will be the carbon challenge. By nature, the Civil Engineering sector is one of the most highly pollutant sectors because of the materials used. Whether people accept it or not, there is a real climate emergency. Clients will increasingly want to know and be assured that they are contributing to a sustainable structure and products. Thus, the big challenge for the sector going forward will be to develop creative and sustainable Carbon Net-Zero plans.
Lastly, diversity within the social value aspects will also gain significance going forward. Trends within tenders suggests that there will be more emphasis on this in the future. Hence, suppliers will need to better demonstrate diversity – not only in their organisations but also throughout their entire supply chains.
Overall, it is an exciting time for the Civil Engineering sector as many changes and developments are taking place.
With thanks to Stephen Slessor, President – Chartered Institution of Civil Engineering Surveyors (CICES).
ICES | Chartered Institution of Civil Engineering Surveyors (cices.org)