Facilities Management (FM) involves the management of facilities (i.e. looking after other people's buildings, properties or estates) and is a significant business sector within the UK. A recent estimate shows that the total market for FM within the UK is about £117 billion per annum – with a fairly even split between the public and public sectors.
In this two-part article, we will be exploring some key aspects of the FM sector. We will also discuss what bidders can do to maximise their prospects of winning FM contracts and what kind of things they should watch out for.
Why are Facilities Management services needed by clients?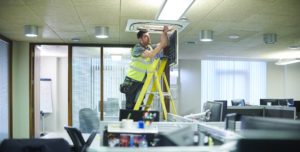 All buildings (e.g. offices, retail outlets, schools, hospitals etc) need to be maintained correctly so that they are in good condition and are safe for all of its users – this is a legal duty of the building owner or operator. FM businesses provide a convenient solution by becoming a "one-stop shop" to carry out all of the maintenance works for the entire building.
What are the different types of Facilities Management services?
Hard FM – These are services which involve physical inspections or works to the building and its systems (e.g. maintenance for electrical, gas or heating systems). Hard FM typically makes up about 22% of the total FM spend in the UK.
Soft FM – These are services which involve cosmetic maintenance or services which give benefits to the users of the building, rather than doing something intrusive to the building (e.g. cleaning, catering, washroom services etc). Soft FM makes up about 37% of total FM spend within the UK.
Associated Services – These are services which are not categorised as either hard or soft FM but are often included as part of an FM contract (e.g. grounds maintenance, waste management, pest control etc.). This makes up about 15% of total FM spend within the UK.
Integrated FM – This is a bundle of FM services (including hard, soft and associated FM services). This makes up 26% of total FM spend within the UK.
Planned and Reactive FM
Usually, FM is all about planned preventative maintenance which keeps buildings running smoothly to avoid any breakdown and the need for reactive repairs. However, there will inevitably be instances where a reactive repair visit will be needed – such call-out services are commonly attached to an FM contract.
For hard FM, engineers may carry out inspections to maintain the building systems, but will be ready for reactive callouts in instances where they fail and need to be repaired or replaced.
For soft FM, cleaners will carry out routine cleaning, but will be ready for reactive callouts for any major spillages.
Facilities Management across different sectors
Fundamentally, the activities within FM delivery are the same in all sectors. However, there are some key differences within the compliance requirements:
Legal compliance requirements – These differences will be mainly regarding frequency. For example, all buildings are subject to electrical fixed wire testing. In most buildings, all the electrical circuits in the building must be tested every 5 years. However, within clinical areas of hospitals, these must be tested more frequently (every 12 months).
Client's own requirements and priorities – Different clients will have different requirements and priorities. For example, a food retailer may be focused towards their cooling and storage systems which could potentially compromise preservation of their stock and ability to trade should they fail. Thus, it is important for FM providers to respond to their client's priorities.
The effect of COVID-19 on FM bidding
The COVID-19 pandemic has affected many businesses, however, the impact within the FM sector was minimal. Despite the initial shock, FM services continued to be in demand as they remained essential for most businesses to continue to function and carry out their core activities.
Nevertheless, COVID-19 has still affected the FM sector – bidders are now required to show how they are able to deliver their services during COVID-19 without compromising the safety of themselves or other building users and visitors. Whilst this became an obstacle for some, this also provided a great opportunity to add value for those able to adapt and effectively implement COVID-19 safety measures.
How bidders can break into the FM sector
In general, clients will feel more comfortable appointing providers with specific sector experience. However, it is still possible for new entrants to break into new sectors.
Some tactics include:
Using previous experience of your employees in past employment or contracts;
Hiring new employees with relevant previous experience (which can be leveraged in bids);
Acquisitions of smaller businesses which may have existing employees with relevant experiences and/or sectorial contracts which can become relevant case studies.
It is also possible to break into a new sector just by targeting the right opportunity at the right time and delivering a well-crafted tender response. Thus, it would make sense to invest more time and resources into bid proposals toward new sectors as these can be gateways to new opportunities.
It would also be worth considering bringing in external bid consultants who would likely have experience in the targeted sector. These external bid consultants can help tremendously in strengthening the bid and maximising the chances of successfully breaking into that sector. A brilliant bid will always be difficult to turn down – external expertise can really help take you over that winning line.
Watch out for part-two of this series coming out shortly – we will consider how to bid and win profitable FM contracts.