Bid teams often require opportunities to reflect and refresh on updated training content that allows them to directly apply these into future bids. On occasion there are significant barriers to implementing bid training such as:
– The bid team being too busy to attend training as it can take resource away from completing important bids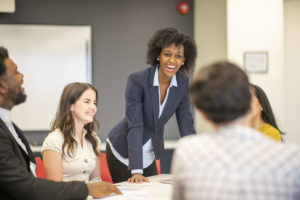 – Differing levels of experience within the bid team, therefore, the training may not be flexible enough to adequately suffice for all team members
– Lack of budget for training
– Believing there is not a specialist who can provide effective training for an organisation's specific sector
If there are not recurring training sessions then this may lead to a decline in skill levels, which will likely also result in bid success rates declining. Motivation may also dwindle as a result of this also, as colleagues may view this as a lack of opportunity to develop their own careers.
Staff surveys provide an excellent opportunity to discuss potential training options, whilst also identifying where and when the training can take place. It may be appropriate to provide opportunities to discuss these at monthly 1-2-1 meetings with staff members and their line managers.
Learning is an effective culture to adopt within a bid team, as this encourages opportunities to continuously adapt and improve as a professional.
What forms can Training Take?
The Association of Proposal Management Professionals (APMP) provides effective training for the bidding profession with certification based on varying bidding experience and bidding complexity.
The Leadership Development provides relevant training for individuals to gain the necessary leadership skills to develop into excellent managers and senior leaders within senior management teams.
The Profit Improvement Workshop which provides individuals to gain a greater understanding and awareness of profitability within an organisation.
Networking Training allows individuals to gain confidence in Business Development situations and networking events.
Software training allows individuals to learn at varying levels on Microsoft Suite – for the development of documentation, slide decks and spreadsheets. Adobe training can be implemented to allow individuals to develop their graphic design and document design skills.
Bid Gap Analysis training allows for a review of previous bids within an organisation and enables for a focussed session, with feedback that organisations can take into future bids.
Training on the various Bid Stages, including:
– Capture Planning
– Storyboarding
– Bid Writing
– Tactical Clarification Questions
– Working with subject matter experts as the ability to elicit information from these individuals can be very effective
Public sector bid training can also take the forms of the following stages:
– Supplier Qualification
– Tender
– Competitive Dialogue
– Interviews / Presentations
An external trainer can facilitate a session which provides for certain scenarios to be worked through by the full team. This allows for a transfer of knowledge between members and encourages a developmental environment.
Updating knowledge sessions allow for individuals within the organisation to be brought up to the latest changes within the sector. An example could be the Construction Sector Playbook which highlight the direction the sector is moving into.
Attending events provide learning opportunities such as procurement conferences or industry specific events (virtual or in-person). Attendees should provide feedback based on the events at team meetings.
Teamwork training can be implemented through:
– Insights profiling – which enables for team members to see each other's communication styles and how individuals perform the duties of their role
– Resilience – which allows for individuals to gain resilience and is an important skill within bidding
Shadowing is another method of training that enables individuals to gain experience in other team members roles within the organisation. This allows team members to gain an appreciation of colleagues' duties and how they allow the organisation to flourish.
Generic training can be implemented to allow employees to develop, such as:
– Workplace safety
– Cyber security
– Compliance
– Customer service skills
– Social network use
– Products & services
– Diversity & inclusion
– Ergonomics and well-being
Budget Setting
It is pivotal to implement training within an organisation's budget, as this encourages development of staff and drives a significant return on investment for the organisation and its clients/service and product users.
SME businesses on occasion are able to apply for government grants to cover the cost of training required for staff. These can be researched through government budget announcements.
Measuring Success of the Training
Provide measures for training satisfaction as this will indicate whether it is likely that the training will be taken on board by the organisation's staff and embedded in daily work in the future.
AM Bid are specialists in providing training for bid staff and have many years of experience successfully implementing engaging training courses. We would be delighted to discuss your training needs with you.
To arrange a discussion of your bid training needs, please contact us at: info@ambid.co.uk or on 0800 043 0495.