Working from home has been the new norm over the past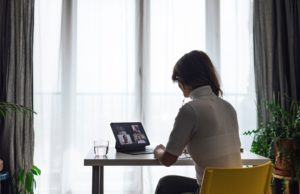 18 months as businesses have adapted to the pandemic. Many organisations that required the typical 5 days in the office no longer find this to be necessary. Hybrid models are being introduced which are giving employees more flexibility. Given this, there will still be situations where employees are required to come into the office for reasons such as team meetings, training, events and projects. For these occasions, it is important to be together to collaborate.
Working Environment/Hot desking
Hot desking is an office environment in which multiple office workers use a single physical workspace over different time periods. This method is used because at times it is not possible to have everybody in office simultaneously as there aren't enough desks. By giving employees the choice as to whether they want to work at home or in office will help resolve this issue. Employees will perform better in different environments. Some might prefer to stay at home and get their head down to work. Others might prefer to get away from possible distractions that may be at home such as young children and pets. Employers need to respect that some of their employees might have legitimate distractions and need to be flexible with them. Organisations will have measures to make sure that adequate work is getting delivered and also identify if any colleagues may be struggling.
Benefits of home working
One huge advantage to working from home is that it completely eliminates the need to commute. Thus, no issues with buses, trains or busy roads. It's also cheaper for both parties as employees no longer need to budget for travel costs along with work attire. They also won't be buying coffees and lunch on their commute to work or lunch break. In general, a lot less expenditure is occurring which benefits the environment too since there is less commuting and consumption. For the employer, it is cheaper for as they don't have to pay all of the same office costs. They can cut down on the amount of office space they need. Employees can benefit from not necessarily having to arrange discrete time off for childcare, pets and tradespeople. Employers need to communicate with their employees so they can understand their individual situations and support them when possible. This could simply be allowing additional flexibility and letting them make up hours later in the evening / early morning if the needs of the job allow for this
The drawbacks of home working
Working from home is not always suitable for everyone. It can result in less interactions with colleagues and no 'water cooler chats' and it can also lead to less opportunities for collaborative working. Some people prefer to have a lot of social interactions in the workplace. There can be a greater tendency to overeat and not maintain daily exercise. Not all homes are suited to home working, as a home or flat may be small and result in having to share a room. Children and pets could be present and result in distractions. It could even be challenging to switch off from work whilst working at home.
A key takeaway is that although the workstation is remote, managers and leaders need to still be as close to their teams as possible. They should be easily contactable, to fully understand what is going on around them. Individuals may grow closer to their teams as employees are having to consciously create opportunities over video calls. Colleagues are also getting to know each other's circumstances better with opportunities to potentially meet family members and see some of their homes. It is important to take away as many positives from the current situation as possible.
Exercise is important and employees need to be able to feel that they can take time away from their desk whether this can be provided via a walk or a cycle. Particularly during the shorter daylight hours of the year, it's crucial to take advantage of the daylight you have and make up for lost working time perhaps in the evening.
Hygiene Factors
Employers need to be checking hygiene factors around their individual members of staff. Checking to make sure they have a desk, monitor and chair that are all suitable for the role. Encouragement is needed to make sure employees' ergonomics are taken care of. Therefore, making sure they are moving around at their desks and not staying in a fixed position.
Utilising Technology
Using remote working technology carries benefits. For example, if you are Edinburgh based you can attend a workshop being delivered from London or, perhaps even overseas. Using technology proficiently can avoid lengthy trips with the same results with time to spare.
The Future
We are all watching the situation with interest as society begins to move to a new normal. It seems highly likely that the future of work for many roles will be hybrid – a mix of time in the office physically collaborating with colleagues and time at home / other remote location. The most enlightened employers will give their team members as much autonomy as possible when it comes to deciding how and where to do their work.