Housing 2021 is the UK social and affordable housing sector's premier event. It is back to its Manchester Central home for the first time since 2019 (the 2020 event was held virtually).
AM Bid, as the UK's leading bid specialist in the construction and social housing sector, is a long-term exhibitor at this event.
Andrew Morrison, our Founder & BD Director took time recently to interview Sarah Payling, Group Event Director at Ocean Media, the conference organisers.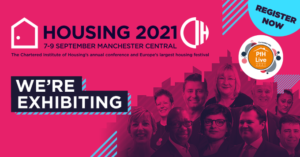 What steps have been taken to ensure a safe event?
Ocean Media are member of Association of Events Organisers, which provide guidance on implementing measures to ensure safe events. We have a lot of resource to refer to in relation to ensuring safety at events. Additional safety measures have also been implemented within the venue itself, including: ventilation measures, hand sanitising stations and considerations regarding catering throughout the event. The venue itself provides extremely spacious accommodation that will help attendees to feel safe.
Has the event been scaled back?
The full auditorium area of the venue is not available for use for this years' event, therefore, the footfall will have a slight decrease. Although, registrations seem to suggest that there will be a strong number of attendees.
What is involved for Ocean Media in organising Housing 2021?
We provide conference content, marketing, sponsorship delivery, exhibition sales, and operations, whilst also engaging with journalist teams within Inside Housing & Social Housing and the commercial teams associated with these publications. Altogether this requires a team of 40 to deliver the event.
Who are the keynote speakers and what can delegates look forward to?
There are a variety of Members of Parliament speaking, along with a wide variety of senior housing professionals, including:
– Peter Denton, CEO of Homes England
– Joanna Averly, Chief Planner at MHCLG
– Chief Inspector of Buildings
– Lord Deabon, Chair of Climate Change Committee
– Kate Dodsworth, Director of Consumer Regulation at Regulator?
– Dr Guli Francis-Dehqani, Bishop for Housing
– Lord Bob Kerslake, Chair of Committee on Homelessness
– Robert Jenrick, Secretary of State for Housing
Delegates can look forward to:
– The fringe project which highlight the positives as a result of COVID, what has been learnt in communities and people. It will also showcase how housing provides excellent opportunities for individuals
– The Unlock Net Zero Stage will allow for seminars on the climate emergency and strategies to resolve this challenge
– Digital Futures Summit which will feature customer experience and digitalisation. Providing insights into the shift from office working to home working
– Best Practice Theatre
– Chartered Institute of Housing Management Theatre
– Future of Living Theatre
How will the issues reflected within the housing sector (e.g. diversity & inclusion, climate change to name just two) be presented at Housing 2021?
These issues will be front and centre of the conference. Tenants & residents will also be highly prominent including joining placemaking sessions which will highlight the customer journey and experience within the housing sector.
How much exhibition space is still available for exhibitors and sponsors?
The vast majority of the exhibition space has already been sold. Please contact Ocean Media if you are interested in exhibiting, sponsoring or attending the event.
What are the costs involved for individuals wanting to attend the event?
There are a variety of opportunities for individuals wanting to attend, they can attend as:
– A delegate – in which there is access to the full conference & programme
– A delegate of the future – free of charge for individuals who have recently joined the sector
– A visitor – this is free of charge for employees of government organisations, housing associations and local authorities.
– A commercial visitor – a fee charged for individuals who are part of the supply chain to the housing sector
Will there be a hybrid approach of in-person & virtual delivery for Housing 2021?
A hybrid approach is not being adopted, however, if anything changes e.g. government restrictions requiring an element of virtual delivery due to limited capacities, then a virtual element may be possible.
Are you implementing measures for the event to be more sustainable?
The event space will have a variety of digital screens to promote, with an aim to provide a limited amount of single use paper being distributed. Catering will also be provided by local suppliers.
With thanks to Sarah Payling, Ocean Media. For more details on Housing 2021, please see:
https://cihhousing.com/why-attend