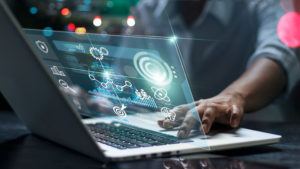 Estimated value of Framework – £80m
Published date – Friday 16th July 2021
1st Stage Closing Date – Monday 16th August 2021 at 10am
2nd Stage Commencing Date – Monday 23rd August 2021
2nd Stage Closing Date – Monday 27th September 2021
Framework Length – 4 years
The University of Nottingham will request tenders from sufficiently experienced and qualified suppliers to establish a framework agreement for the provision of a digital partner service.
Objectives
The University of Nottingham is seeking to engage a Digital Partner on a framework agreement to provide strategic advice and guidance and support the delivery and modernisation of its foundational IT services across the University. Initial services to be delivered under the contract will be:
Strategic advice and guidance
The Digital Partner will participate in the co-design, co-management, and co-delivery of the university's foundational IT Services, providing strategic advice and guidance throughout the duration of the contract and account management.
The University of Nottingham will also work with the Digital Partner to complete a 'discovery' exercise. This will allow the Digital Partner to familiarise themselves with the university's technology landscape and propose a roadmap for service delivery improvement and reduction of operational risk and technical debt.
Managed Network Service
Most of the underlying network infrastructure is at the end of its life and the security architecture and design of the network is insufficiently flexible to meet new demands of different stakeholder groups across the university.
The Digital Partner will take over provision of the network service and then transition to a fully managed future-proofed service. This could include provision of features and services such as full campus-wide high-speed mobile network coverage, software defined networking, zero trust security architecture, and enablement of smart campus functionality.
Managed Print Service
The university's current print service provides a campus-wide managed print service for staff, students & researchers. The Digital Partner will provide a suitable equivalent service that represents value for money to the university in terms of service quality and asset utilisation, whilst also supporting the university in achieving its broader strategic goals for environmental sustainability and waste management.
Integration
The university has implemented an Azure hosted Enterprise Integration Platform to host high performing reusable data services which will enable the complex legacy network of over 400 point-to-point system integrations to be replaced with interfaces based on reusable business APIs. There is significant demand for the service due to several other investment programmes and the Digital Partner will help to design, develop, maintain and support the Enterprise Integration Platform.
It is expected that 5 suitably qualified suppliers will be invited to submit a tender for the 2nd stage of the procurement exercise (ITT Stage).
For specialist bidding assistance for this opportunity, please contact AM Bid on 0800 043 0495 or email: info@ambid.co.uk
Contract Notice Available at: Digital Partner