Business Awards provide an excellent opportunity for an organisation to gain sectoral and professional recognition for their work and achievements.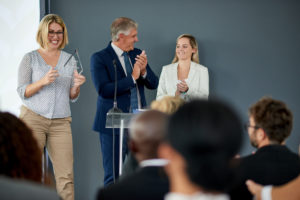 Why apply for business awards?
There are many reasons why organisations should apply for Business Awards. These include:
Greater brand recognition – within each stage of an Award the business is promoted by the awarding body. An example would be when our Founder Andrew Morrison won Director of The Year Award at the Institute of Directors Scotland in 2018, this was hugely effective for gaining brand recognition for AM Bid. The LinkedIn post that Andrew created in relation to the award garnered over 30,000 views, 400 reactions & 100 comments. The Award also resulted in our business gaining a number of significant new clients
It can aid in maintaining talented staff within the organisation and potentially attract new talent who want to work for an award-winning business
Existing clients will be reaffirmed in the business and keen to continue to working with you
It allows you to raise your profile with the evaluation team marking award submissions – they tend to be senior business leaders
Winning an award is external confirmation that a business is excellent in the services / products it provide
Being shortlisted for an award opens up a variety of different opportunities including networking – i.e. attending business award events – and even promotion via social media to further generate opportunities for the business.
An award event allows a business to invite employees, clients and business supporters which allows a positive environment to be maintained – for individuals external and internal of the business.
Identifying Business Awards to Apply For
Businesses should analyse which awards they are applying for, and within this aim to go for a mix of awards in a variety of categories, i.e. – personal (leaders, entrepreneurs) awards, team awards or specific teams within the business, the business as a whole and partnership working awards. Shortlisting / winning awards can be mentioned within bids and tenders and helps bolster your credentials.
As an initial step in award submissions it would be best practice to apply for local Chamber of Commerce Awards / Federation of Small Business Awards. Starting local will then help businesses to subsequently apply for regional, national or even international awards.
Consider submitting for a number of different award categories, this allows for greater messaging coming across clearly to the evaluation panel, potentially increasing the business' opportunity at being shortlisted or winning an award.
Many of the factors required to win an award are also relevant in relation to bid writing or proposals, therefore, a majority of the advice provided will be familiar to bidding professionals. As this is the case, engaging with a bid professional can significantly optimise award submission success rates.
Awarding Bodies
There are a variety of different organisations that run business awards. These can include sector specific awards (such as Accountancy, Architecture etc) – which provides sector certified quality for the business to promote. It also includes Institute of Directors, Federation of Small Business, Chamber of Commerce Awards and business awards ran by the 'big four' accountancy firms and major banks. Caution should be taken for awards that require a large entry fee – these are sometimes less credible business awards.
Research previous business award winners, as this provides a strong indicator of typical organisations / individuals who win these awards and something on what is required to obtain the award. Conduct research on award sponsors and the evaluation panel members as this may help you decide whether this award is a good fit for your business. For example, within the Institute of Director awards, an individual needs to present excellent leadership and governance attributes, alternatively within Chamber of Commerce awards, businesses must demonstrate business growth and contribution to the local business community. Bidding to a professional sector body, will require submissions to highlight the adoption of professional standards and what the applicant is doing to support professional standards.
Before applying for award submissions analyse the rules and criteria, word limits, attachments, upload schedule, deadlines and testimonials – similar to bidding these are vital to adhere to. Ask clarification questions if needed as this will stop the business from wasting any resource in applying for awards that may not be applicable. Having analysed these initial steps, organise an Award Submission Kick Off Workshop chaired by a senior individual within the organisation who will provide guidance on why the business is planning a submission for this award and what to expect from this process.
Award Submission Content Process
Whilst writing award submission, highlight both unique selling propositions and what differentiates the business. Disruptive and innovative practices within a sector can help move the submission from 'shortlisted' to 'award winning'.
Awarding bodies and events are usually annual, therefore, quoting and providing details of services that were provided 10 or even 3 years ago will not be relevant, unless this is to illustrate the business journey. For example – if this is to highlight business growth then be ready to provide the facts and figures and if possible display this graphically.
Provide figures within the submission such as budget within a People Development Award to help demonstrate the organisation's determination to provide 'People Development' by committing discrete budget for colleagues to utilise for training purposes. After implementation of this training, has business performance strengthened as a result of this? What has client satisfaction been like? How has colleague satisfaction / team wellbeing been like? Has the COVID pandemic pivot performed well? Also look to evidence inclusion within the organisation – gender, race, etc.
An overarching aspect within an award submission is that the entry should be compelling and engaging for the evaluation panel. Aim to illustrate passion for the business and write with flair highlighting ambition and vision.
Obtain information from subject matter experts within the business – avoid discussing within a bubble. Award winning 'bid gold dust' comes from different areas of the business, not just the individuals drafting the award submission.
Post Submission Stage
Set aside a review stage for the draft submission. Just as would be the case for a bid process – analyse the evaluation criteria and consider what elements the judges will be looking for within an entry. The review stage will also allow for individuals to identify whether the business message is coming across effectively, whilst also providing identification of any grammatical / spelling / syntax errors within the submission. This stage will also provide an analysis of whether the submission is appropriately covering all aspects of the criteria for the award.
Once the submission has been evaluated, request feedback – this will allow the business to identify what were the differentiating factors between winning and being shortlisted. It will also provide excellent reflection for future award submission processes.
Bid professionals provide an excellent resource to optimise award submission success rates, bringing both writing expertise and important external challenge to your entries.