Winning tenders, bids and proposals is a core part of maintaining the stability and growth of many businesses and having the right people in place to deliver this success is crucial.
Bid writing can be a niche profession, so what do you look for to ensure you are recruiting the right people with the skills and attributes required to build a successful bid function?
Key Areas to Consider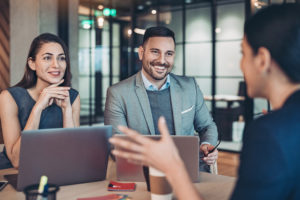 • Qualifications – relevant achievements in secondary, further and higher education as well as professional bodies, depending on the level of the role
• Skills – the key skill set for the role
• Attributes – the kind of person required for the role and the fit with the team
Qualifications
At a senior level you are looking for people who hold professional certifications from the industry body, the Association Proposal Management Professionals – APMP. For entry level people, APMP is the ideal professional development programme to follow to get them qualified once they have sufficient experience.
APMP is a membership association for professionals dedicated to the process of winning business through professional proposals, bids, tenders, and presentations.
APMP offers a range of levels of certification including Foundation, Practitioner, Professional and Capture Practitioner.
Personality Profiling
It can be beneficial to invest in personality profiling as part of your recruitment process. This provides an understanding of the candidate's key strengths and weaknesses and gives you an insight into the sort of person they are, their preferred methods of communication and their working style to ensure you can work with them and support them effectively as well as assessing their fit within your existing team.
Skills Tests
It is a good idea to set a skills test which is representative of what the role requires to see the candidate demonstrate their expertise as well as give them insight into what will be expected of them within the role. For example:
• Bid Executive – this can include a task outline requiring them to collate the relevant details to demonstrate literacy and numeracy skills as well as ensuring the candidate can produce a quality response under pressure and within set timings.
• Bid Writer – this can include a written exercise such as a response to an invitation to tender of about 30 pages with the candidate expected to produce a two page executive summary to be delivered within 90 minutes.
The Right Skills and Attributes
There are a number of core skills required at every level of bid management, the key ones are strong written and verbal skills, good organisational and time management skills and most importantly attention to detail. Missing something vital or making mistakes in a response can not only impact on the scoring but can ultimately cost you the contract.
There are a number of roles within a bid team structure and it depends on the size of your business how many of these levels you require. In many cases the skill sets of one or more of these roles may be combined.
Bid Team Roles
Bid Executive
This can be someone with little or no specific bid experience but with relevant secondary, further or higher education qualifications and an interest in the industry along with the following:
• Attention to detail – vital at every level• Writing skills – including good literacy and numeracy skills
• Organisational skills – time management, prioritisation and applying processes
• Communication skills – communicating effectively in writing, on the phone, virtually and in person
• Team player – takes responsibility as part of the wider bid team, a sense of ownership and pride in the business and providing support when required
• Self-Motivated – the drive to get things done as well as the confidence to chase information and flag up any issues or concerns with senior staff
Bid Writer
This should be someone with some experience of bid writing or a high level of transferable writing skills. They need to be able to understand what is required to win and tell your story in a compelling way. They should have a proven capability of all the areas outlined above as well as:
• Strong written skills – a vital element of the role
• High level organisational skills – the ability to assimilate large amounts of information, work at speed and meet tight deadlines
• Research skills – research information supplied for the bid, the client and other stakeholders including the marketplace/sector as well as public information – committee minutes, annual reports etc
• Curious – ask questions, discuss with relevant subject matter experts, focus on the client and what they need, the win themes, points of differentiation, USPs etc
• Tenacious – the ability to think outside the box to engage with busy subject matter experts to gather the information needed in a timely manner
Bid Manager
This role is aimed at someone with specific bid writing experience or someone with strong writing and project management skills. They require a proven track record of all of t
he areas outlined in the roles above as well as:
• Understanding the Bigger Picture – the ability to understand what is needed for a winning bid and the deadlines involved, an eye for detail while also seeing the big picture to manage the project plan
• Working to deadlines – ensuring that all of the elements required are completed on time and the bid is ready to submit ideally 24 hours before and if not by the fixed deadline. This includes engaging with all those involved in the process both internally and externally i.e. sub-contractors, etc
• Courageous – to do what needs done, keep control, to chase within the organisation, the client and third parties, to escalate when required.
Senior Bid Manager
This role is aimed at someone with significant bid management experience as they will be overseeing a number of bids and/or bid managers. They require a proven track record of all the areas outlined in the roles above as well as:
• Motivational – to get the best out of their team, providing guidance and support as required as well as instigating support and engagement across the business
• Connected – to know their way around the organisation as well as key stakeholders and clients
• Resource Management – to manage the people and budgets
Head of Bids
This is a leadership role with oversight of the bidding function. It is often someone who has come through the bid team ranks but it can also be someone with senior management experience, a clear understanding of the importance of bids and experience of working closely with the bid team.
• The face of bids – the face of bidding across the business, well connected, respected and with access to the senior decision makers
• Insight – they comprehend the importance of bidding within the business and have a clear understanding of what to bid for and what not to bid for
• Accountable – they are performance focused with key measurements including success rates and KPIs with the responsibility for the success or failures of bidding
• Development focused – they are focused on the development/training of their team, not only in their current roles but also how they progress through the business and in their career
Bid Director
This is a very experienced bid professional with overall control of the bid. They own the win strategy, commercial strategy and know what is needed to win the bid. They tend to have broad experience covering all aspects of bidding. They are the external face of the business going to bidding conferences, sector and industry events. They are known and respected within the industry, within the organisation and by clients.
Bid Specialist/Expert
This expertise can be within team but is more likely to be external, either as a freelance consultant or most likely part of a specialist agency. Bid experts tend to have worked within the industry for many years and have experience across a range of a sectors.
Many bid teams use external consultants, either to provide specific sector insight and knowledge for a particular bid, to improve their prospects of winning by buying in the skills of bid and tender professionals who know what it takes to win or to support the bid team when the workload is more than they have the capacity to resource.
People are one of the most fundamental aspects of an organisation's success so it is essential to make sure your bid team hires the right people, at the right time for your business to grow.