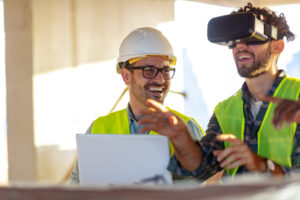 The Construction Playbook, Procurement Green Paper and Pagabo's conversations with industry disruptors about the 'Future of Construction' all herald change for the construction industry.
Procurement changes are welcomed as an opportunity to reset and to refocus on procurement as being integral to achieving value, social value and innovation, including harnessing the skills of the dynamic SME sector. Procurement professionals ensuring transparent, proportionate and agile processes, and evidence-based decisions will benefit the sector.
Government engagement with the construction and professional services sector delivered the Construction Playbook, already mandatory for Crown Bodies and Arms Length Organisations, and now being adopted by more procurement organisations. The themes resonate with the industry and include programmes, social value, competence, health and well-being, fair payments, digitisation, innovation and SME contribution.
The construction industry has been slow to adopt innovative technology, other than perhaps in design. Getting into shape to attract the construction leaders of tomorrow means radical changes are needed. Competing with other sectors in an employment market where younger people aspire to be more mobile, work with innovative technology, be part of a diverse workforce, gain professional skills and work for employers who promote positive mental health and well-being, will be challenging. Senior leaders need to get ready now to be able to recruit the leaders of tomorrow.
The COVID-19 pandemic has demonstrated the ability of the sector to adapt quickly. An industry worth £110 billion, with 3,000 companies employing 3 million people supports a much wider supply-chain and provides homes and places of work. The sector which is vital to the country's recovery construction was back up and running both quickly and safely, with new working practices.
This experience, and the urgent need to do more to tackle climate change and sustainability in construction has accelerated change in the sector. Skills shortages and the lack of diversity is being tackled by positive programmes to attract women and those from BAME communities into construction, with some positive outcomes.
Pagabo's Future of Construction facilitates conversations with industry leaders focusing on five themes: skills; well-being; regulation; innovation; and sustainability have moved at pace. Five OFQUAL accredited training packages have already been developed and will be rolled out this year to hundreds of people across the UK.
Social housing providers are playing their part in Building Back Better, including looking at the use of Modern Methods of Construction (MMC) to provide homes that are quicker construct, require different skills, and cost less than traditional homes. With the COP26 Climate Change conference being hosted in Glasgow in 2021 the opportunity that MMC also offers to reduce the impact of construction on the climate will be welcomed. Together with social housing's role in renewable heat and power for new homes and retrofit in older properties, this will help reduce fuel poverty, increase job opportunities and provide new skills in construction.
Transformation is key to the future of the sector. Large companies can, and do, innovate but SME and micro-businesses also play a role in offering new solutions. Many procurement organisations are ensuring both the resilience of local communities as we recover from the pandemic and capturing the ingenuity of the SME sector by ensuring places on their frameworks are reserved for them.
Strategically, sector leaders are also focusing on Stage X – the stage before RIBA Stage 0 – to ask why a development is being planned, as well as closing the circle by picturing a Stage 8 – what the building does in the long term and the learnings from its development and use.
The sector's focus on quality, efficiency, value, safety, productivity and sustainability will set us on a good path and demonstrate the learning from some of the very difficult lessons from the last few years. Enabling the sector to attract the best leaders of tomorrow is crucial to continuing this transformation.
With thanks to Gerard Toplass, Executive Chairman of Pagabo
For further information about Pagabo, please go to: