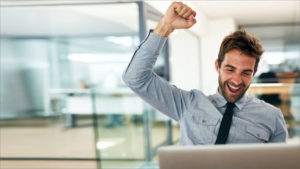 We are very proud of our 80%+ success rate at AM Bid – a rate we have sustained continually since the business was established in 2016. Bidding at 80% success across multiple sectors and industries at the volume we do is no mean feat, so we wanted to ensure our success rates were provided with the credibility they deserve. As such, we are delighted to be working with Douglas Management Systems Consultancy (DMSC), who are now independently auditing our bid success rates quarterly.
DMSC is a family-run SME providing a range of management systems consultancy services, including the implementation of bespoke management systems for Quality, Environmental and Health & Safety management. DMSC also provide independent audits of systems, processes and documentation to help organisations prepare for accreditation to ISO standards.
In the first independent audit of our bid success rates, we were pleased to achieve an 81% score for 2020/21, based on all bid and tender outcomes known to date. The rate will be reviewed, audited and reported on quarterly as we continue to deliver more bids and hear back on the successes of those already submitted.
David Gray, AM Bid Managing Director, said: "We're delighted to be working with DMSC, who I know have helped many organisations improve and enhance their management systems to achieve external accreditation.
"Given their specialism and that they are led by Emma Douglas MCQI, a Chartered Quality Professional, we are confident that our success rates will be audited to the highest quality standards, by an experienced consultant and quality auditor.
"I'm also delighted to report an 81% success rate for 20/21 to date, which is testament to the ongoing high-performance of our bid team, and their steadfast commitment to developing and delivering high quality bids and tenders for our clients."