AM Bid is delighted to announce that it has joined the Greater Manchester Chamber of Commerce to continue its North West growth. This news follows on from the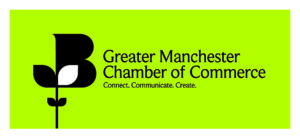 appointment of North-West based Chris Blackburn as a Senior Bid Manager in September 2017.
AM Bid is growing exponentially posting a 73% increase in turnover in the previous financial year. The business has also received further recognition with award wins at the Edinburgh and Midlothian & East Lothian Chambers of Commerce and success at the Institute of Directors Scotland awards.
A spokesman for Greater Manchester Chamber of Commerce said: "We're delighted to welcome AM Bid to the Chamber and look forward to working with them."
Speaking about the news Andrew Morrison, Managing Director of AM Bid said "AM Bid is excited about joining Greater Manchester Chamber of Commerce. Joining the UK's largest Chamber of Commerce is a natural next step that builds on our award-winning membership of the Edinburgh Chamber. We are rapidly establishing ourselves as one of the UK's leading bid, tender and proposals consultancies – achieving 80%+ bid win rates. We appointed Bolton-based Chris Blackburn in September 2017 as our Senior Bid Manager and already have a number of North West based clients. We also look forward to opportunities of sharing our bidding expertise with fellow Chamber members."
Chris added "I am delighted to be part of the Chamber and excited about attending events across the region. I'm looking forward to meeting fellow members and learning more about their businesses. I am happy to have a no obligation call or meeting to identify synergies and discuss how we can improve bid and proposal win rates."
Additional Information
AM Bid is an award-winning, multi-sector bid specialist providing advice and assistance to organisations bidding for contracts in the public, private and third sectors. Working across the UK, our client base ranges from FTSE-100s through to national and regional businesses, SMEs and sole traders www.ambid.co.uk
Chris Blackburn is a Senior Bid Manager at AM Bid, bringing eleven years' experience in bid writing and management of all stages of the bid life-cycle. He has extensive experience in Professional Services tenders, having held senior management roles in Legal and Recruitment bids, delivering innovative proposals and tender responses. Chris has experience of leading bid teams to over £200m of contract wins (in public, private and third sector markets).
Greater Manchester Chamber of Commerce is the largest chamber in the UK. The Chamber boasts the largest Policy team throughout the entire Chamber network; researching and representing members' views on issues such as transport, environment, skills and the economy across all ten Greater Manchester local authority areas. They use their influence with local and central government to lobby on behalf of members as the voice of the Greater Manchester business community https://www.gmchamber.co.uk