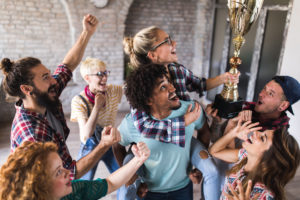 In the competitive landscape of contract opportunities, businesses are constantly seeking ways to gain an edge. One powerful tool for achieving this is through participating in and winning business awards. These prestigious accolades can serve as a catalyst for business growth, helping companies to build a stronger brand reputation, gain recognition and attract new customers.
In this article, we will explore how your business can strategically leverage business awards to increase your success in winning bids for contract opportunities.
The Advantages of Winning Business Awards
Enhanced Visibility and Recognition: A business award win can help propel a business into the spotlight. Awards ceremonies are attended by influential individuals and organisations in the industry, offering valuable networking opportunities and the chance to forge meaningful relationships.
Furthermore, winning an award (or being shortlisted) generates media coverage, social media mentions, and other forms of publicity, significantly boosting your company's visibility and recognition.
This increased visibility and recognition can be leveraged within bids by demonstrating the buzz that you have created around your business. You can use this to create a positive image to the bid evaluators.
Establishing Credibility and Trust: Business awards are a sign of quality and excellence. By winning an award, you can establish a solid foundation of credibility and trust in the eyes of customers, investors, and partners. This is particularly important for small businesses striving to build a reputation and prove their worth in a fiercely competitive marketplace.
Awards serve as independent validation of your expertise and capabilities, lending weight to bids and providing confidence to potential buyers. This should be clearly highlighted in bid responses to make you stand out from the competition.
Fostering a Positive Business Culture and Motivation: The recognition gained from winning an award can have a profound impact on employee morale. It can fill a sense of pride in their contributions to the company's success, leading to improved motivation, higher job satisfaction and better retention rates. This should be highlighted in your bid responses as it shows that your business has a positive work culture, which is attractive for bid evaluators, especially for 'Fair Work Practices' questions.
Additionally, being acknowledged for excellence can attract top talent to an organisation, which can ultimately help in further enhancing the team. Talented and highly qualified teams lead to higher scoring bid responses as the strength of your team demonstrates the quality of your business to the bid evaluators.
Reviewing and Improving Processes: The process of entering and competing for awards encourages businesses to review their operations and achievements, reinforcing successful practices and identifying areas for improvement. By doing so, businesses can better understand their strengths and weaknesses.
Bid evaluators will appreciate any recent review of internal processes and systems. Thus, you should highlight this within your bid proposals, clearly stating the date of the review, the learning outcomes that you have adopted, and what it could mean to the buyer.
Gaining a Competitive Advantage: In crowded industries, standing out from the competition is crucial. Winning a business award provides a significant competitive advantage, differentiating you from your peers. Including evidence of awards wins in your bid responses showcases your strengths and accomplishments to buyers, setting you apart and increasing your chances of winning more work.
Celebrating Success with Customers and Clients: Winning awards also offer unique opportunities to share the business's success with existing customers and clients.
Organising celebratory events (e.g. coffee mornings or presentations) where potential buyers can be invited to share in the achievements can help strengthens relationships and increase trust in products or services. This can help greatly in solidifying your customer base, making them more likely to invite your company to tender for future opportunities.
Finding Relevant Awards
Discovering relevant business awards is key to positioning yourself for success. There are several ways to find awards, including:
Utilising Search Engines: Conduct thorough searches using search engines like Google to uncover a plethora of business awards specific to your industry or sector
Monitoring Competitors: Keep an eye on your competitors' achievements and awards they have won. This can provide valuable insights into awards that could be relevant to your own business
Engaging with Industry Bodies: Industry-specific organisations often sponsor or recommend awards that recognise outstanding achievements in the field. Stay connected with these bodies to stay informed about potential award opportunities
Leveraging Social Media: Social media platforms can be a valuable source of information on upcoming awards. Follow relevant industry influencers and organisations to stay updated on award announcements
When researching potential awards, it is important to conduct due diligence and thoroughly research each opportunity before dedicating time and resources to writing your award entry.
Key factors to consider include:
The submission deadline
The different award categories
Any entry requirements (including any fees)
Past winners and runners-up
The specific benefits of winning each award
What Award Judges Look For
Crafting an award-winning entry requires an understanding of what the judges value. When preparing your submission, consider the following elements that award judges typically prioritise:
Your story
Success and triumphs
Financial figures
Charitable efforts
Credentials
To maximise your chances of success, ensure your responses align precisely with the questions posed and avoid straying off-topic. Support your claims with relevant evidence and data, substantiating your achievements and providing a comprehensive view of your company's capabilities.
Leveraging Finalist Status
Being shortlisted as a finalist is already an accomplishment. Capitalise on this achievement by utilising the following strategies:
Display the Award Logo: Showcase your finalist status by prominently featuring the award logo on your website, email signature and social media posts. This signals to potential clients and partners that your company has been recognised for excellence in your industry
Write a Blog Post: Create a blog post highlighting the award for which you have been shortlisted, including information about the upcoming awards ceremony. This will generate buzz and excitement around your business, while also demonstrating your commitment to excellence
Engage on Social Media: Congratulate and engage with other finalists on social media platforms. This fosters a sense of community and can lead to valuable connections with like-minded businesses
Networking: Take advantage of the awards ceremony to network with industry professionals, potential clients, and partners. Actively seek out opportunities to share your company's story and establish meaningful connections that could lead to future contract opportunities
It is important to remember that if shortlisted for a business award (but do not win), it can still help strengthen future bid responses as including that information shows you were credible for potentially winning the award. This can help reassure the buyer that you are as good as you say!
Maximising the Awards Ceremony Experience
Attending an awards ceremony presents a unique opportunity to promote your business and increase its visibility. To make the most of this occasion, consider the following tactics:
Capture the Moment: Take as many photos as possible during the ceremony to document your participation. These images can be used on your website, social media platforms and bid proposals
Leverage Social Media: Use social media during the event to share real-time updates and engage with your audience. Post photos, videos and live updates to generate excitement and gather attention for your business
Create Buzz: Even if you do not win the award, maintain a positive attitude and continue to promote your business. Highlight your participation, share your experience and showcase the merits of your company. This can still attract the attention of potential buyers and increase your chances of winning contract opportunities
Behave Like a Winner: Regardless of the outcome, maintain professionalism and grace throughout the awards ceremony. Networking opportunities abound, so engage with other attendees, make connections and leave a lasting impression
Conclusion
In the competitive landscape of contract opportunities in the UK, business awards can prove to be a powerful tool in helping win more bids and land more work.
With thanks to Debbie Gilbert – Founder of the Best Business Women Awards
https://bestbusinesswomenawards.com/