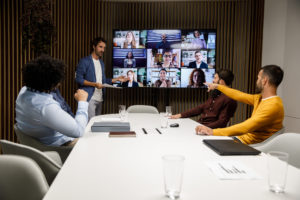 Human resources (HR) is the umbrella term used to describe the management of employees in an organisation. It plays a key role in developing, reinforcing and changing the culture of an organisation. In this article, we cover some important aspects of HR in the 2020s, shared with us by HR Professional, Ian Pilbeam.
The impact of Covid-19 on the HR function
The recent Covid-19 pandemic has forced businesses to re-evaluate the way they operate, with the HR function taking centre stage. As businesses closed and paused operations during the initial lockdown, business owners had a difficult and complicated task in managing the HR function. Whilst many businesses were pushed to lay off and cut their workforce, many businesses also learned to adapt and embrace technology and innovation to continue their business operations.
The importance of HR professionals during the pandemic
With business owners in full panic mode at the onset of the pandemic, HR professionals played an important role in helping many businesses cope with the initial shock. During this time, their expertise in the HR function helped reassure business owners and guide them in navigating and making the right decisions during an unprecedented time.
As the UK Chancellor introduced the furlough scheme, HR professionals needed to move quickly in becoming experts in this to be able to properly advise business owners. As they learned the ins and outs of the scheme, they were able to guide businesses in utilising it as best as possible to save jobs and keep business operations running.
However, the HR issues faced by businesses were more complex and constantly evolving, resulting in multiple phases. Similar to how businesses survived by savings jobs and keeping employees, in the next phase, businesses actually had to cut jobs to survive – since the furlough scheme was not free for businesses.
Many businesses without the proper HR professional advice struggled during this period as they relied too heavily on the furlough scheme and work-from-home (WFH) initiatives to solve all of their HR problems, without realising the true impacts and consequences in the longer term.
In reality, issues concerning employee conduct, performance, health and wellbeing will always be an element of the HR function. Furthermore, those who were on furlough would eventually come back to work – something that many business owners overlooked.
During this time, HR professional advice was regarded as a 'blue light service' (i.e. an essential service) as there were many ever-changing HR challenges, with constant changes to the furlough scheme and redundancies throughout the UK. It was clear that HR professionals play a key role in helping businesses to navigate their way through the pandemic.
Significant changes resulting from the Covid-19 pandemic
Whilst the pandemic has undoubtedly had devastating impacts on the lives of numerous people and businesses, it has also largely improved many company processes and approaches.
For example, Health & Safety is now a lot better understood as more people have realised the importance of keeping themselves safe and their responsibility for others. Businesses are now taking Health & Safety more seriously than ever and are continually adapting their systems and policies to better protect their employees, as well as their customers and partners.
Unsurprisingly, the pandemic has also led to significantly increased popularity of both hybrid working and WFH models. Whilst many business owners and managers were largely unconvinced of the feasibility of such work models prior to the pandemic, this view has now completely changed.
The adoption of work-from-home and hybrid working models
The rest of this decade will likely be filled with trial and error as business owners and managers further explore the practicality of various work models and whether these could permanently replace the traditional 9am to 5pm working hours at the office. In fact, several businesses have already started embracing WFH models and have gotten rid of their offices altogether. This has allowed them to cut costs for both businesses and employees.
Despite the benefits of these newly accepted working models, this will still be a prolonged trial and error process. These approaches will be different for each industry, business and employee. For some, it may work permanently, temporarily or not at all. For example, these approaches may limit or hinder the overall team's productivity for certain businesses or industries that benefit or rely on physically being together. Likewise, some employees may find comfort in working from home, whilst some may value human interaction and a dedicated office working environment. It is still unclear how these new working models will ultimately affect businesses and employees; however, these will continue to take shape throughout the 2020s.
The rise of and need for flexible working
The option of flexible working has traditionally been a luxury offered to a select few employees. However, with the adoption of WFH and hybrid working models to combat the pandemic lockdowns, many have changed their stance and have recognised the real feasibility of flexible working hours. In the past, managers would likely deem it unacceptable for employees to work 4 hours in the morning, take a long break, and then return to work in the evening. However, the pandemic has provided many opportunities for business operations to adapt and be more accommodating. This has allowed the world to realise that work does not always need to be done during the standard 9am-5pm working hours.
This realisation is especially important in the HR and Recruitment function of a business. With the ongoing 'talent war', employers will need to be flexible to keep and attract good people. As employees realise and experience the benefits of flexible working, they will naturally begin seeking and/or demanding this. Therefore, it is critical that employers seriously consider it and be creative and open-minded in adapting their business operations to help ensure they can continue offering attractive employment opportunities to the best talents.
Diversity & Inclusion
Studies have already shown that more diverse teams generally perform better. Despite this, diversity and inclusion continue to be one of the main challenges within the HR function.
Protected characteristics such as gender, race and religion are all things that employers really need to respect and be aware of. Employers are strongly urged to get professional advice on these, as they can quite easily develop into more complex issues which could have been avoided with sound advice.
On a more positive note, there has clearly been a lot of progress in diversity and inclusion since the introduction of the first UK legislation in the 1970s. This area of HR will only continue to progress and develop throughout the 2020s but will likely continue past this decade.
The importance of the HR function
It is evident that the HR function plays a key role and influence on many businesses. Businesses are now being increasingly measured by their HR decisions and how they are treating their staff.
As businesses continue to address the ongoing economic uncertainty, remote working and the mental health of their employees, it is clear that the importance of the HR function will only continue to grow throughout the 2020s.
With thanks to Ian Pilbeam – CEO of The HR Dept – Edinburgh & Lothians