Published date – Thursday 4th November 2021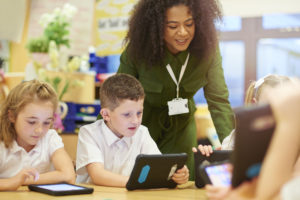 Deadline date – Monday 20th December 2021
Buyer Information
Academies Enterprise Trust (AET) is a large multi-academy trust with 57 schools currently, country-wide. Locations of our academies range from Middlesbrough to Devon and the Isle of Wight with the largest clusters being in Essex, Midlands, South West, London and the North East. 31 of these are primary schools, 21 are secondary schools and there are 5 special needs schools.
AET schools are vibrant centres for their communities, available all year round outside of traditional school hours for sport, health and recreational activities. They are also a focus for family-related activities and provide lifelong learning opportunities for local people of all ages.
AET has a core ICT infrastructure based around Google Apps (primarily for mail, document storage and collaboration) and is now one of the largest users of Google Apps for Education in the country.
The vast majority of hardware is specified and procured centrally, with schools typically having only a small amount of discretionary funds for additional equipment therefore any services under this contract should be designed to be flexible and as cost-effective as possible to meet the needs of individual schools whilst having the benefits of standards and volumes of scale of the larger organisation.
Opportunity Overview
AET – 58 primary and secondary schools – are seeking to establish a multi-supplier public sector framework agreement which will allow public sector bodies to contract with service providers to procure and/or purchase a number of ICT related services and products. The framework will utilise a Further Competition process to establish the most economically advantageous tender for each individual contract. This procurement will establish a panel of service providers who may then openly participate in the Further Competition process for each contract tendered through this framework. There are no limits to the number of suppliers that can be on the panel.
For phase 1 of the framework, the lots will be split into the following:
Lot 1 – Strategic Partnering Services: Lot to enable Contracting Authorities to procure a Strategic Partner to provide a full or hybrid managed service, as well as outsource planning, contractual management, tactical and strategic support, partnering services and value-add, and net zero and low carbon support using a combination of lots 2 – 14.
Lot 1.1 – AET Further Competition: Further Competition for AET based on lot 1 and trust specific requirements to procure a Strategic Partner.
Lot 1.2 – TEFAT Further Competition: Further competition for TEFAT based on lot 1 and trust specific requirements to procure a Strategic Partner.
Lot 2 – Support Services: The overarching lot that includes the Support Services, and Managed Service sub-lots.
Lot 2 Sub-lot 1 – Support Services: A sub-lot that will enable Contracting Authorities to procure a range of support services including helpdesk services, remote support and monitoring, onsite support services, and ancillary services.
Lot 2 Sub-lot 2 – Managed Service: A sub-lot that will enable Contracting Authorities to procure a Managed Service including all the services in Sub-lot 1, but that also includes the management of an ICT strategy, account management, contract management services, and strategic advice, guidance, and support.

For specialist bidding assistance for this opportunity, please contact AM Bid on 0800 043 0495 or email: info@ambid.co.uk.
Contract Notice available at: ICT Framework